Funktion-One supports Acoustics Research at the University of Salford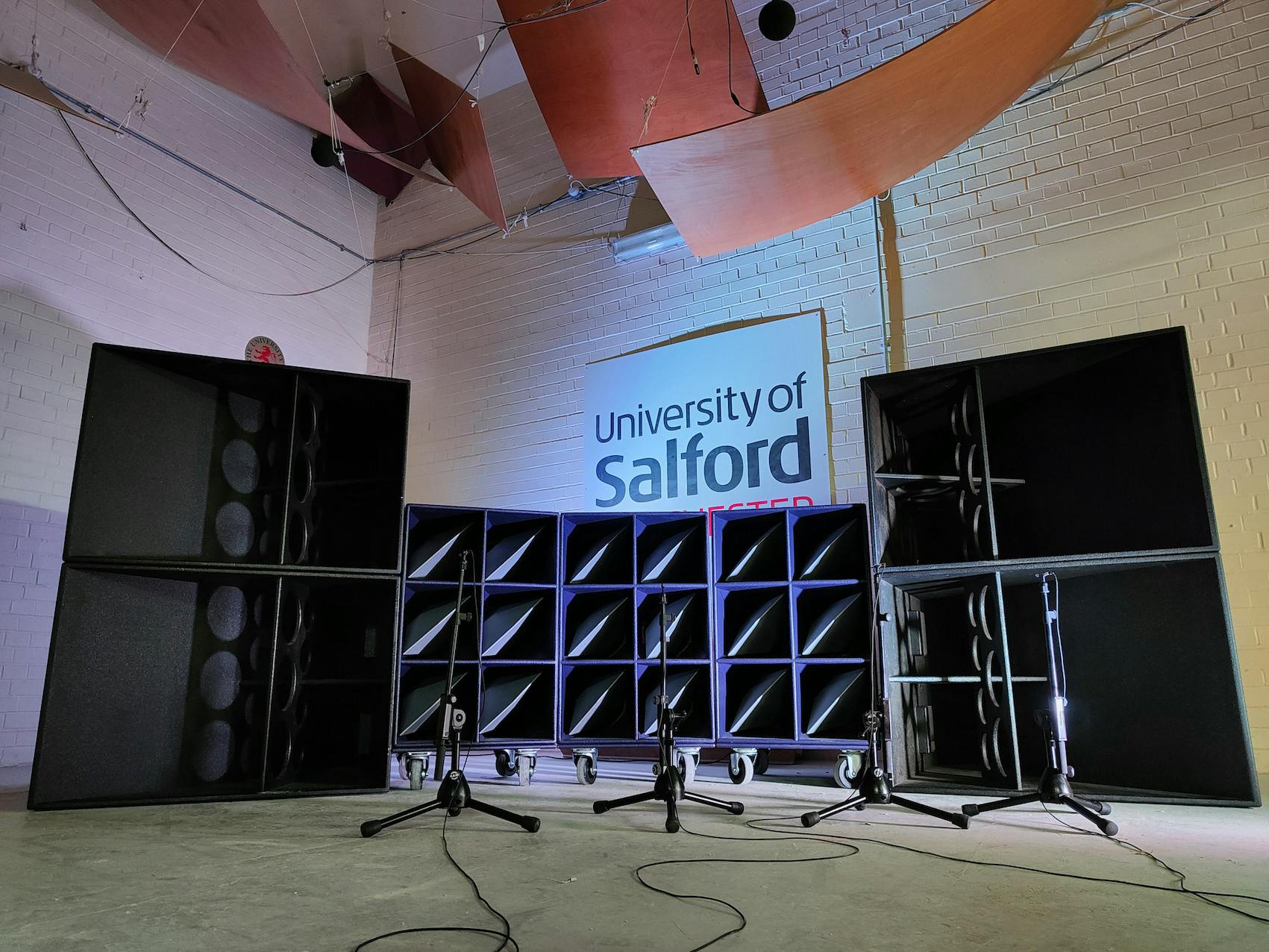 Funktion-One has supplied a set of prototype high intensity acoustic testing (HIAT) loudspeakers for a pilot study on commercial HIAT capability for satellite and aerospace components at the University of Salford Acoustic Laboratories. This testing aims to recreate the extreme acoustic conditions of a rocket launch in a controlled way in the laboratory, to demonstrate that a satellite - or one or more of its components - can endure this and complete its journey to orbit without damage. 

Acoustic testing is important for understanding durability, but is extremely challenging to deliver because of the very high sound pressure levels (SPLs) involved. These are typically in the range of 140-150dB, are bass-heavy, and must be maintained continuously. This places far higher strain on the loudspeaker and amplifier system than standard concert sound usage does. Commercially available loudspeakers designed for music use are, therefore, not typically suitable for this kind of testing, which led Funktion-One to design a loudspeaker optimised for this application.
"Horn-loading is the effective way of maximising broadband loudspeaker efficiency, giving higher SPLs with reduced electrical input power and lower risk of overheating."
For this first campaign of tests, Funktion-One Technical Design Engineer James Hipperson joined Pete Rollinson of Audioserv (supplying F124 bass loudspeakers), Dr Danny Wong-McSweeney (Acoustic Test Laboratories Manager) Mike Lotinga (PhD student) and Dr Jonathan Hargreaves (Lecturer in Acoustical & Audio Engineering). 

The system comprised six unmodified Funktion-One F124s and three prototype HIAT610 loudspeakers. Initial results were promising, achieving 147dB OASPL (overall SPL) and an instantaneous peak of an astonishing 160dB.

Dr Hargreaves comments: "To achieve these kinds of SPLs, a system needs to prioritise efficient conversion of electrical power into sound. If you're not doing that then you are simply dumping more electrical power into the voice coil than you need to, which will likely lead to overheating and ultimately thermal failure, making such a system unreliable. 

"Horn-loading is the effective way of maximising broadband loudspeaker efficiency, giving higher SPLs with reduced electrical input power and lower risk of overheating. This feature makes Funktion-One's loudspeaker technology especially suitable for High Intensity Acoustic Testing applications."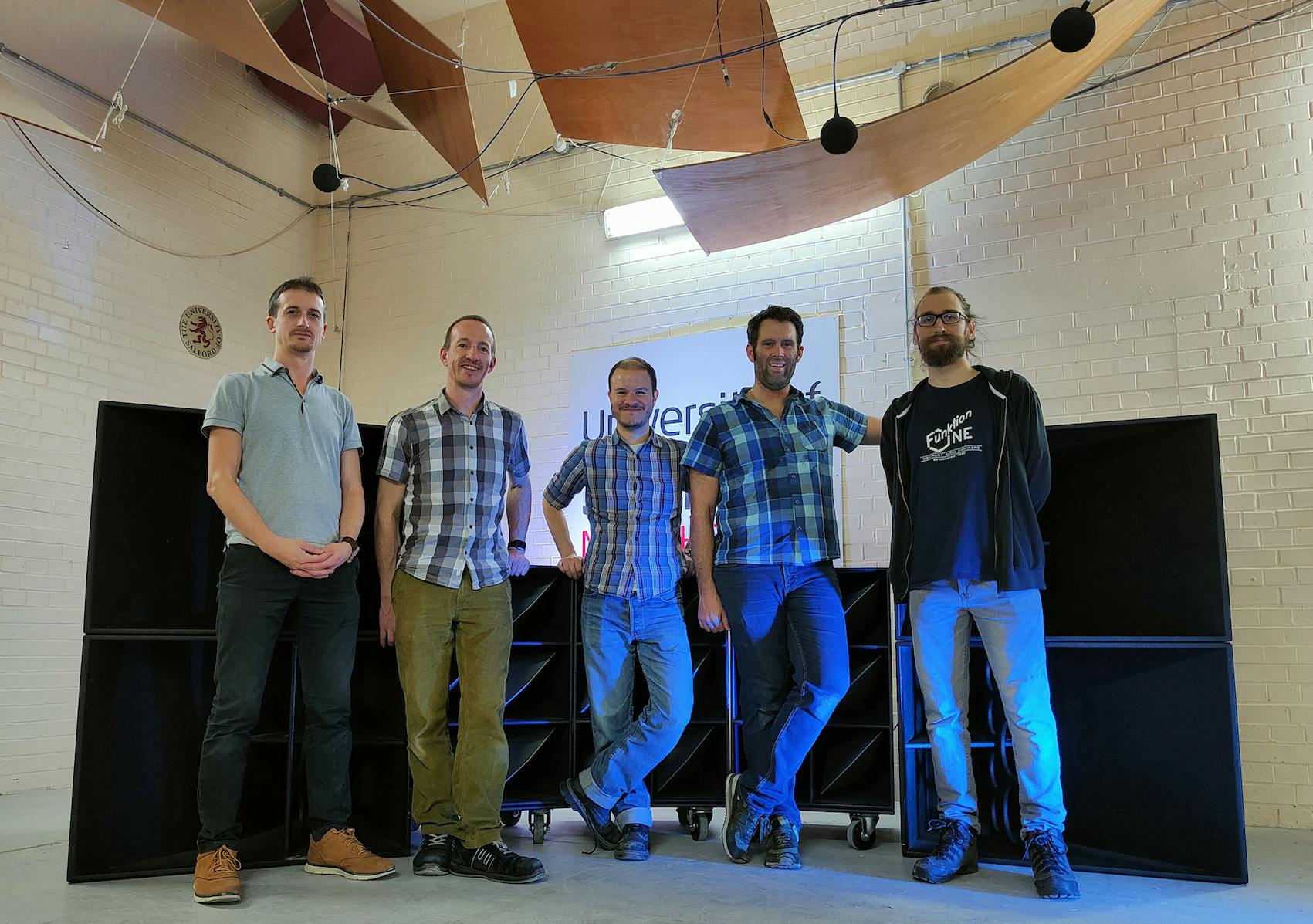 Pictured: Mike Lotinga (PhD student), Pete Rollinson (Audioserv), Dr Danny Wong-McSweeney (Acoustic Test Laboratories Manager), Dr Jonathan Hargreaves (Lecturer in Acoustical & Audio Engineering), James Hipperson (Funktion-One Design Engineer)
The HIAT610 has a frequency range of 200Hz to 10kHz, weighs 87kg, and measures 840mm x 549mm x 591mm (including wheelboard). The array of three HIAT610s - without additional low frequency loudspeakers - produced 141dB RMS and 155dB peak. 

Hipperson concludes: "As well as being an interesting engineering challenge and an important area of research, these tests are also a powerful demonstrator of the energy efficiency of our loudspeakers. Each cabinet was supplied with only 600 Watts but produced continuous (RMS) sound pressure levels up to 147dB."