The Excellent Sound Systems of Field Maneuvers
Inspired by the free-party movement and run by a group of music-loving, good time people, Field Maneuvers thrives on a diet of uncompromised line-up choices, the highest spec sound systems and an incredibly special crowd. It's the festival that isn't a festival, which has been hailed by Crack Magazine as the 'UK's best-kept secret'. 
Mystery surrounds the weeks and days leading up to Field Maneuvers 2022; a haze of everything you want at the foundation of any rave in the middle of nowhere. Excellent DJs, excellent sound systems AND a secret location.
Sun pours from the sky as we make our way from Scotland to somewhere near Norwich. Naturally, we miss the secret location by about 10 miles before realising and seeking guidance from someone much better at navigating to covert event sites than us. Seven hours after lift-off, we're there, slowly meandering through dreamy woodland, snaking our way to FM22: the no frills rave.
[Photos by Courtney Frisby and Drew Eckheart]
"We've got the same objectives; best sound, best atmosphere, and the best musical experience. This year we really pushed the boat out."
Field Maneuvers started life in 2013, when a group of friends (Ele Beattie, Leon Cole and Henry Morris) followed their love of festivals and the free party scene. "We were going to lots of festivals, like Glade and the Big Chill when it was good," recounts Ele. "In that slightly innocent, possibly arrogant way, we were at these festivals having a really good time, being like 'oh, we can do it better than this'. Naively thinking 'I'm a really good raver, I could definitely put on a party for loads of people'. If we hadn't had that ballsy naivety, we probably wouldn't have started it. We put fifty quid in a pot and bought the domain name." 
With misspelled URL in hand, the quintet (as it was back then before Julia Jomaa and Maz Ebtehaj flew the nest) paved their way to a future of amazing raves. "You've probably noticed the spelling of Maneuvers is a bit weird," Ele highlights, with rolling eyes. "It's the American spelling, which we picked up from a Funkadelic song and didn't realise."
"It was quite impressive," says Henry. "We didn't have any money to start it, so we just called in favours from all the DJs these two knew. We didn't even have a payment system. People were just transferring money into Ele's personal bank account and we were having to identify every transaction against the person's name."
With a capacity capped at 350, they managed to pull it all off relatively unscathed, albeit with a steep learning curve under their belt. Though they had prepared themselves for enjoying the best party ever, they hadn't necessarily appreciated they would also need to run the bar, man the gate, dish out wristbands, pick the litter and everything else. Sometimes flying by the seat of your pants is the best education. It's also quite stressful.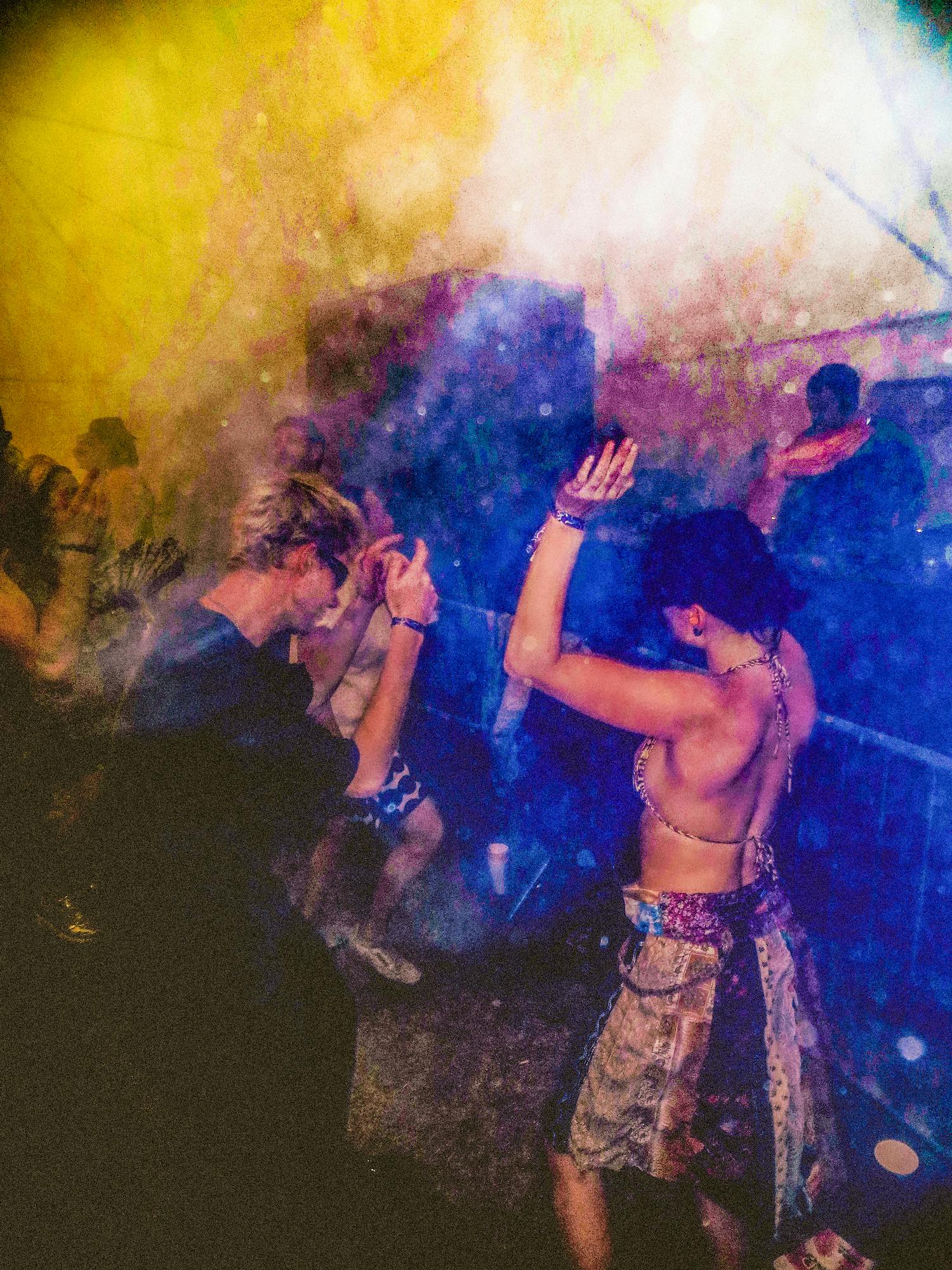 "There were so many things that we didn't think of until literally the day of the festival," recalls Ele. "We didn't have any water. We bought a tank - eight grands worth of water - the night before. There were lots of last-minute credit card splurges as we suddenly realised that we didn't have a very crucial item."
In spite of all that, Field Maneuvers was born and it was here to stay, and stay it did in its 'obscure' Oxfordshire location until the 2022 edition. The festival steadily grew in size and stature, up to 500, then 700 cap by 2017, and 800 by 2019. "We sort of knew we were getting quite good at it when, after about four years, we didn't recognise that many people," says Henry. "It's great now because it has developed a community of its own. That's what really makes it worthwhile - all the big community that's there, who love it and get lot out of it."
From the stress and confusion of forced abstinence in 2020 and 2021 came an opportunity to the reset and reassess, resulting in a new location somewhere in Norfolk and the biggest event to date. The new site is very different, both geographically and aesthetically, but all good things must evolve and the FM community did just that, loyally taking the leap to join the annual wave of new maneuverers.
The new locale also meant a host of new suppliers, but the techies (sound, lights and lasers) proved to be indispensable (and willing to travel). Funktion-One specialists, Sound Services Ltd, were both willing and very capable. The company's first involvement with the event came in 2015, but its roots can be traced back to early FM days, when Leon was manager at East London's much loved and greatly missed Dalston Dance Tunnel. The venue's bespoke Funktion-One sound system was designed and installed by Sound Services. When the time was right, Leon and the other founders wanted the same for Field Maneuvers. By 2016, Sound Services were doing every stage.
"We have worked with Leon since he ran the Dance Tunnel where we installed a Funktion-One system," explains Sound Services' head honcho, Curt Gilmore. "We like the way they do things, as they like to do things properly. They appreciate what we do and pretty much give us free reign to do whatever we want when it comes to spec'ing the sound systems. We've got the same objectives; best sound, best atmosphere, and the best musical experience. This year we really pushed the boat out."
Sound Services designed and deployed Funktion-One setups on all of FM22's stages, including Sputnik Dome's head and soul engulfing four-point Evo X system. It would be the following month (October 2022) before Evo X was officially launched, making this a particularly exciting affair for the audiophiles among us. A block of F121 bass enclosures ensured there was full spectrum envelopment of high-fidelity audio.
"For a long time, the crowd favourite has been Sputnik," highlights Ele. "Resident Advisor even called it something like one of the most unique rave spaces in the world. I love that loads of smoke and loads of lasers and amazing DJs creates the most unique rave space in the world."
Curt explains: "We built four Litedeck 4ft by 4ft plinths for each Evo X, setup at equidistance around the perimeter of the Sputnik Dome, and used F101s on the side of the plinths for the small amount of infill needed to cover the dead areas on the perimeter of the space. The Evo X's were perfect in a four-point in this tent due to their 90-degree dispersion characteristics. We had a monster stack of F121s in one lump, so the bass was completely even and thumping wherever you were in Sputnik."
"I think the Evo X four point in there made it the best it's ever been," states Leon.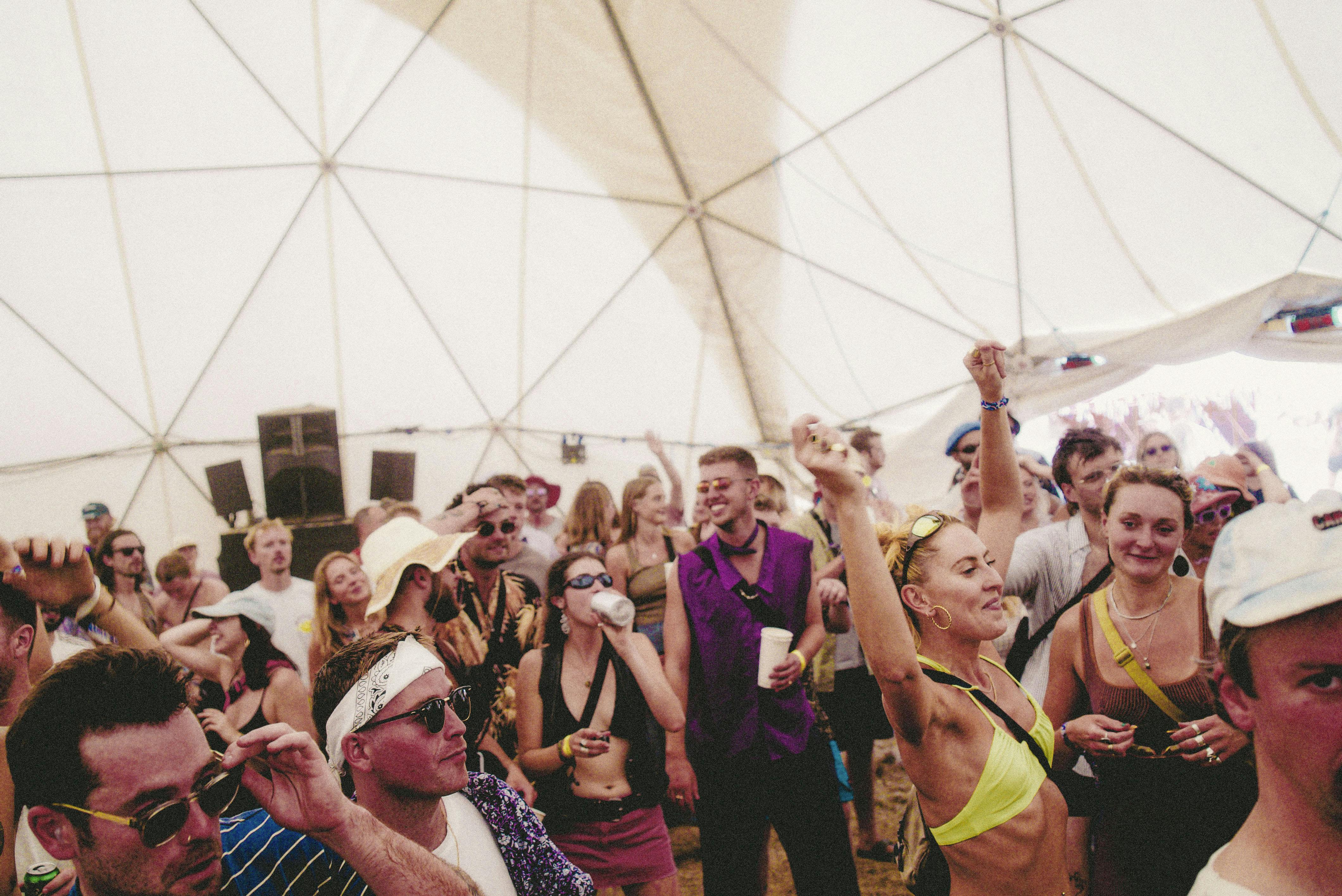 If Sputnik is the intrepid voyager, the eponymous main stage is FM's ground control. This is what good audio looks and feels like, never mind sounds like. As you walk in, the temperature rises, thanks to an inner shell of thick sound insulation. Big, impressive Funktion-One Evo Axheads beam into the audience area/dancefloor and a gang of F124 bass speakers lurks with intent.
"We used a block of four F124 subs, which are fairly new in the Sound Services hire inventory," explains Curt. "We again used 4ft by 4ft plinths to raise the Evo mid high boxes, as we wanted to mono block the bass. These plinths had two Evo 7TL and two Evo 7TH stacked on top. This was by far the best sound we have ever had at a festival, which was a combination of a good sounding tent, the new F124s in a mono block, the Evo 7Ts and the new FFA 8004HD amplifiers." 
Flynn McBurney, who has been part of the Sound Services Field Maneuvers audio crew since its second year, agrees: "FM sounded absolutely incredible. It was one of my best audio experiences in a long time."
Flynn worked closely with Curt to design the systems for FM22, answering a universal goal of maximum impact on the dancefloor and minimal offsite disruption. This led to him designing T-array end fire bass setups for every stage. "The T-array bass configuration means all the speakers are in phase with each other and summing in front. All the energy is going forward, so you get maximum impact in front and you also get reduction behind."
"FM sounded absolutely incredible. It was one of my best audio experiences in a long time."
Funktion-One's Mike Igglesden, who supported Sound Services with system design and setups, highlights the other measures put in place to keep FM on good terms with their new neighbours: "We have to mention the effort the FM team put into sound containment and absorption. They placed three tall stacks of hay bales around all stages and draped the tents. It got a bit sweaty at times, but it allowed the systems to run at the level that sounded right, not influenced by external factors."
Mike feels the new location was instrumental in making this one the best yet. "The increase in size allowed the use of larger systems on each stage. It made it possible to go four tall with F221s in both Laika and Sputnik, have F124s for the FM stage, and put the four-point Evo X system in Sputnik, instead of four F1201s as it was in previous years, when the dome was much smaller. I feel they have hit an optimum size."
Appreciation runs in mutuality around the FM network, from organisers to attendees to suppliers, adding another layer to the atmosphere around the place. The lines are blurred. Everybody, no matter your role, is here for a good time and fully committed to making it the best time. "That's the thing about Field Maneuvers," says Flynn. "Everyone's there to make the party as good as possible - organisers, punters and the crew.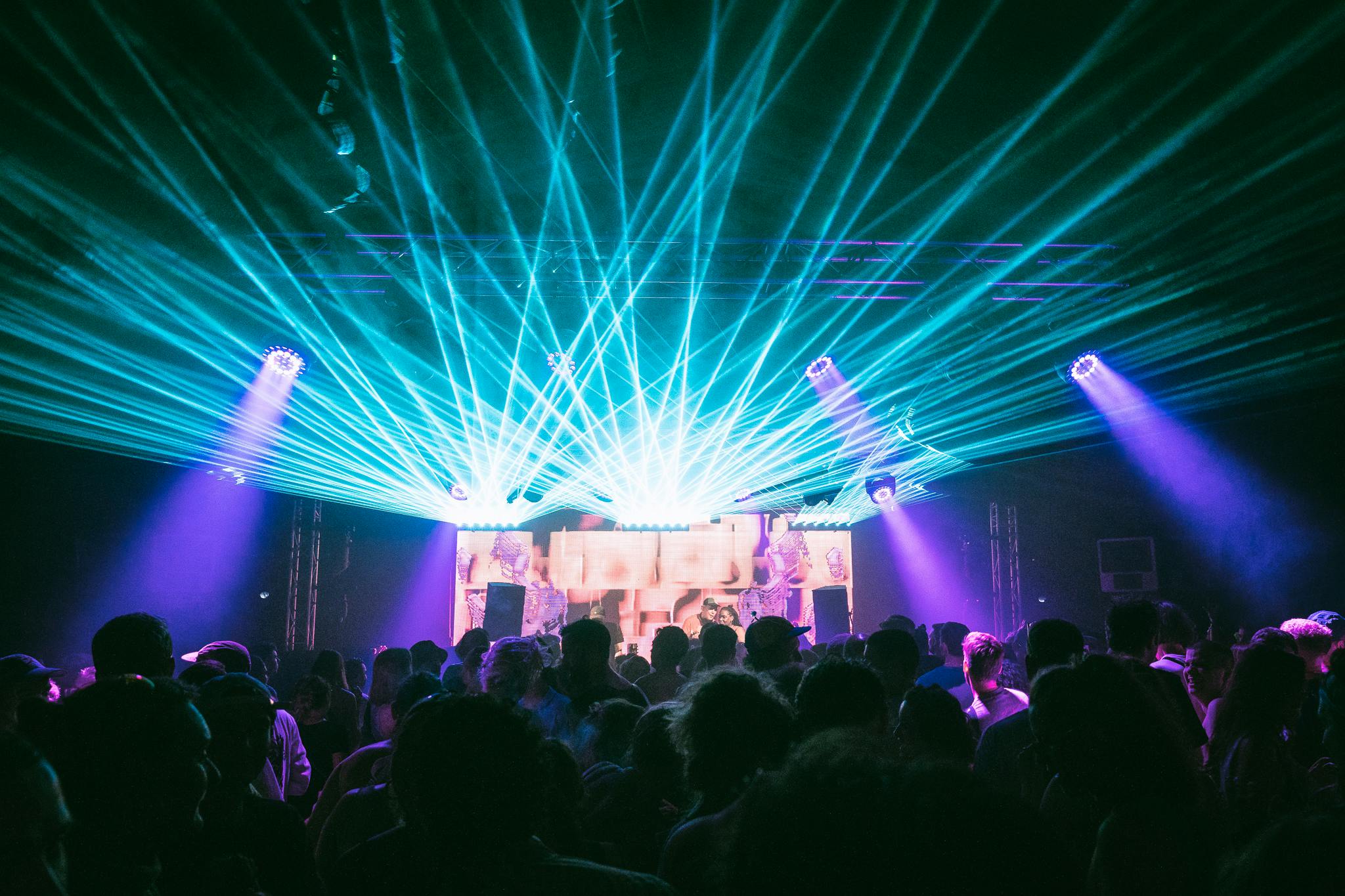 For Leon, Ele and Henry, the sound is a fundamental part of FM's DNA. Leon explains: "From a customer perspective, Funktion-One is really recognisable, but I think it's equally important to us to have them operated by someone like Curt and his team who really care about it. You can install good speakers badly. These guys put so much effort into making sure everything's absolutely perfect. I think it's that combination of using the best kit and working with the best engineers, who really care, that really pays."
Ele adds: "The thing that we missed this year, which I'm kicking myself about, is that we usually have more details on the flyer – like all the performers, people doing the visuals and we talk about the sound systems we have. Last year, because it was a bit of a scramble getting the approval of the new site, it was literally just the DJs. 
"Our crowd are a headsy crowd. They care about what sound system they're listening to and they like to know all those details. I think it was really missed, that we actually didn't talk about all those other aspects which are so important for the party. We're definitively bringing that back for this year."
Leon agrees: "The crowd kept on coming up to us throughout the weekend and asking us about the speaker arrays. We were constantly being asked questions about the unusual bass cabinet layouts. They are definitely a crowd that takes an interest in not only spotting what the speakers are, but also looking at the way they're setup.."
Such a successful event would ordinarily lay a solid foundation for the next one, perhaps even afford some respite for the organisers, but the afterglow of FM22 was rudely disrupted by the uncertainty and financial precariousness resulting from the cancellations and postponements of the previous two years. News of Field Maneuvers' plight spread quickly via the 'Save Field Maneuvers' crowdfunder. Unsurprisingly, FM's dedicated community rallied, chipped in, and quickly put the festival back on a solid footing. Now, all eyes are on FM23, taking place at a secret location (possibly near Norwich) on 19-22 August 2023. 
Expect some subtle changes, says Leon: "We are changing the locations of our stages to further reduce offsite noise, allowing us to increase the level where it matters – on the dancefloor. Combined with Sound Services and Funktion-One, this should be the best sounding Field Maneuvers to date.
Tickets for FM23 are selling faster than ever before, with an expected sell out two or three months before the event. For more information, including tickets sales, visit the Field Maneuvers website.

The audio crew who make it happen:
Curt Gilmore: Supplying equipment, system speccing, setup and derig. 
Flynn McBurney: General tuning, setup, derig and overseeing.
Raffi Cirigliano: Engineer for Laika stage, plus setup and derig.
Rael Guerrero:  Engineer for Sputnik, plus setup and derig.
Calan Griffiths-Thomas: Crew for rig and derig.
Shea Stewart: Engineer for the main stage, plus setup and derig.
Benny Asante: Setup and derig crew.
Mike Iggy: General tuning, setup and derig.
Rich, Mike, Alfie and Zac: Kit prep at Sound Services.